1 - Let It Ride (1989)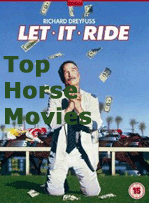 An average kind of guy who has a slight problem with gambling goes to the track, and mystically, it seems as though he can't lose, no matter how he bets; and he has an incredible day. Funny as heck, as good as it gets. Why can't we all have just one day like that?
Starring Richard Dreyfuss, Jennifer Tilley
2 - Seabiscuit (2003)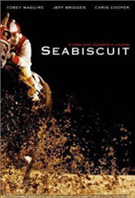 True story of the undersized Depression-era racehorse whose victories lifted not only the spirits of the team behind it but also those of their nation. Based on the book by Laura Hillenbrand, this true story tells of the undersized Depression-era racehorse whose victories lifted not only the spirits of the team behind it but also those of the nation as well. Simply put this movie is awesome. Breathtaking, exhilarating, exciting!!
Starring Tobey Maguire, Jeff Bridges, Elizabeth Banks
3 - Secretariat (2010)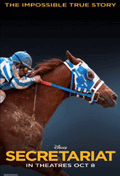 Owner Penny Chenery Tweedy and trainer Lucien Lauren guide "Big Red" to winning the Triple Crown. Set in 1973, the fabulous rise of one of the greatest race horses of all time. Will we ever see another horse with the quality of Secretariat? This movie is a little sad at times due to all the heart break surrounding Penny Chenery. It is also very moving and uplifting at the same time. John Malkovich is hilarious as Lucien Lauren (Secretariats trainer). Otto Thorwarth (a real life jockey) gives a great performance playing the tough, gritty, balls to the wall jockey Ron Turcotte. Overall an excellent movie.
Starring Diane Lane, John Malkovich, real life jockey Otto Thorwarth plays Ronnie Turcotte.
4 - Wise Guys (1986)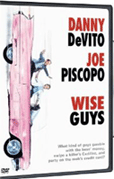 2 goofy guys that work for the mob are sent to bet on a fixed horse race. Instead of betting the horse they are supposed to, they bet on the favorite in an attempt to pocket the winnings. When they lose $250,000 of the mobs money they are set up to kill each other. They run off to Atlantic City and the comedy follows. A classic fun fest.
Starring Danny Devito, Joe Piscopo and Harvey Keitel
5 - Dreamer (2005)
With an all-star cast of Kurt Russell, Dakota Fanning, and Kris Kristofferson, incredible horses, and an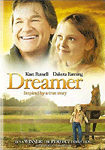 inspirational storyline, it's no surprise movie-goers rave about Dreamer. In timeless, classic, Disney-style, this movie draws in the whole family, skeptics included, and makes it an enjoyable, memorable experience for all. When his filly gets hurt a trainer has to choose between his job and his horse, he chooses the horse. Fun and heart warming for the whole family.
6 - Hidalgo (2004)
The outstanding American mustang named "Hidalgo" and his hard-luck Pony Express rider (Viggo Mortensen). Are recruited to compete against the world's best Arabian horses over a grueling 3,000-mile desert race contest where any mistake could prove fatal.
By Kerry Zangara