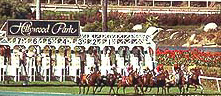 A big factor in handicapping turf races is figuring out if the horse likes the course he/she is running on today. Turf courses around the country can vary greatly. From often lush and deep courses in Kentucky to much harder and drier turf courses out in California. Their circumference is often different and some even have slightly different elevations and undulations.
At Belmont Park in New York, for instance, there are 2 separate turf courses. The sweeping widener course and the tight inner course. Each one offers a unique challenge to it's competitors. Each one often finds a horse favoring either course. Figuring out if the horse likes running on a particular course can be a great advantage in handicapping.
We have been following the recent New Jersey meets and have seen similar things happening there. The Monmouth course seemed to favor front runners most of the year. But when they switched to the Meadowlands turf course we saw almost a complete reversal. With off the pace runners dominating much of the meet so far.
So when handicapping turf races take into account a horses record over the course he/she is running on today. A liking for that course can be a great advantage.
When a horse is shipping in and running on a new turf course I am always a little leery. Will the horse handle the new footing today?
I have seen many good turf horses in California ship to the east and be beaten on unfamiliar courses. It is never good to base an opinion on one sole factor, but this is an important one when handicapping turf races.
Try not to take short prices on horses that are unproven over a particular course and look for course specialists that are being overlooked in the betting.